Remember when you used to play in treehouses as a kid? At one resort in the Laurentians, you still can.
By Seattle Dredge
"You guys, we're sleeping in a treehouse tonight."
I couldn't stop saying it as we drove through the tree-lined roads of rural Quebec, in a strange disbelief that I was about to live out a childhood dream. I said it again as we parked the car, and continued saying it as we walked down the muddy forest trail with all our bags.
I could hardly believe it when I saw it.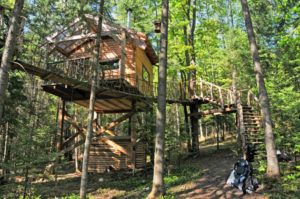 Hovering 15 feet above the forest floor rested a castle of wooden beams, rope bridges and elaborate eco-construction. I squealed with childlike delight and ditched my bags at the base before bounding up the log-stacked stairs.
I swung the door open, revealing a high-ceilinged room holding a couch and table, separate washroom and small kitchen area. The interior was complete with propane and wood stoves, a composting toilet, water and basic shower, and a second floor loft full of comfortable mattresses. The outside sported a wide balcony with chairs, two rope bridges that bounced as you walked along them, a spiralling wooden staircase and an island around another tree connected by one of the bridges.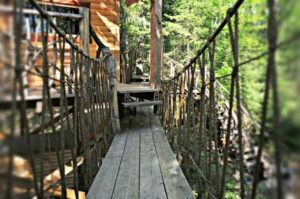 We were in Nominingue, Quebec, at Les Toits du Monde, a self-proclaimed establishment of unusual and ecologic accommodations and outdoor activities, just two hours north of Montreal. Aside from the treehouse itself, Les Toits du Monde also offers a Native American Teepee, a Mongolian yurt and will soon have a fully functioning Hobbit House and Igloo.
We spent the evening making the most of our temporary tree-trop dwelling by exploring the surrounding forest and playing tricks on each other in the darkness, drinking a few beers and roasting marshmallows in our living room's wood-burning stove.
When morning arrived, the light shone brightly through the windows and into the loft, but I was too comfy to move. It was until I heard the promise of a hot morning tea that I managed to pull myself down the ladder.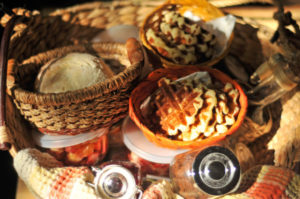 Outside on the balcony, my treemate pulled on a rope, grasping one hand over the other and gliding it through a pulley in a continual motion. A large cloth-covered basket popped up over the edge, attached to a hook on the end of the rope. Breakfast had arrived.
After breakfast, we packed up our things, said our goodbyes to the magical little house in the trees and headed back down the path to the real world.