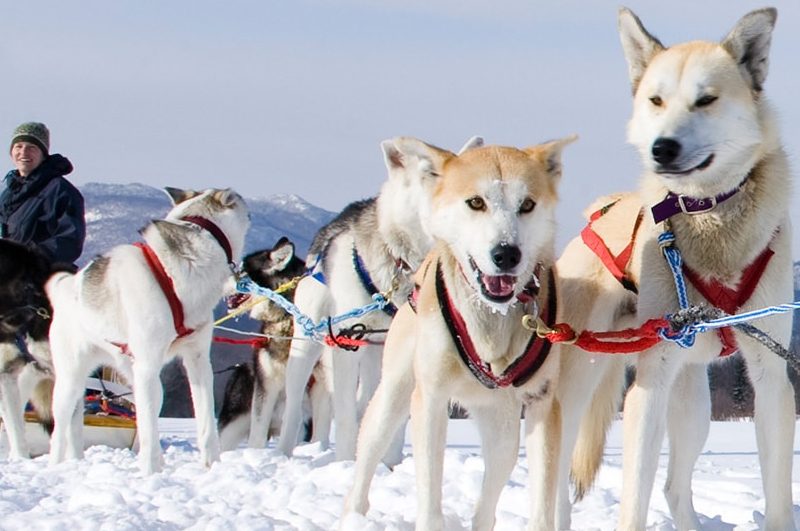 Live an unusual experience on a adventure guided by sled dogs. These adorable dogs will take you on a journey through majestic forests and mountains.
Details: strong> Depending on the volume of customers, you will be invited to participate to the stages of the realization of the trek such as: Preparation of the dog sled, harness your dogs, manage the energy of your huskies, learn the language of the mushers, back to the kennel, congratulate and spoil your dogs, un-harness and of course tell the stories of the day by warming up in the yurt "base camp". One hour ride, departures at 10h or 11h30, sometimes 14h. Possibility to go riding for 2 hours, possibility to do the dog scooter or fatbike joering. You must book at the reception of Les Toits du Monde by phone at 819-278-0483.
Rates: strong> $ 99 per person plus taxes.
Contact and Address: strong>Aventure Quatre Saisons, 13080 Route 117, Labelle, QC, 514-554-5091
How to get there from Les Toits du Monde: strong> About 20 minutes by car. Take a right on the path of chemin des Faucons leaving the parking lot. At the stop, turn right on Chemin du Tour du Lac or Route 321. Continue straight for about 9 km. At the roundabout turn right to take the 117 South for 5.7km. Take the first exit (exit 162) towards Rivière-Rouge. At the stop, turn left under the bridge of the 117. At the stop go straight. At the light continue straight ahead, then take the first left on Chemin de la Rivière-Nord. After 4.6 km, you will see a blue banner Aventure Quatre Saisons FACING the 4315 chemin de la Rivière-Nord in Rivière-Rouge.